Fast update on last Sunday's Wildcard game versus Washington (for those who may be unaware...but, c'mon...
really
???): Packers won. Handily. In a manner on all sides of the ball we haven't seen since the Packers were 6-0.
Great. Restored hope and confidence -- kinda -- to many if not most of the Packers faithful.
But that was then. This is now. And that means the Green Bay Packers are in the desert to face the high-flying Arizona Cardinals. You know...that team that dismantled the Pack just a couple weeks ago. (Gulp!)
The Packers will need constant pressure by Mike Pennel and others on AZ QB Carson Palmer tonight in order to stay in the game.
(Photo by Getty Images)
Defensive pressure will be key for the Packers
It could be argued that the Packers' defense has been the surprise -- and unexpected savior -- of the Packers 2015 season. It was clearly in evidence in the Wildcard win over Washington. It will need to be equally aggressive and persistent in tonight's game against the Cardinals. Why? This great
article
by Milwaukee Journal Packers writer, Bob McGinn, puts it all in context. Among the points made, Palmer is a drop-back quarterback, not mobile. If the Packers can get to him with a four-man rush, it could make the difference. Arizona's offensive scheme is built upon deep drops by Palmer in the pocket and protection from his line so that the Cards' fleet of speedy receivers can get open deep. If Palmer's allowed to stay upright without pressure, it's going to be a long game...especially for the Packers' secondary.
The entire Packers squad was flat in the first match up. They had nothing. Got behind early. Only got two sacks on Palmer; clearly that's not going to do the trick. Likewise, if and when there are opportunities for takeaways, the Packers have to come up with them. They've been pretty middle of the road in that regard this season. Big games are times for big plays. The defense will have to make a few.
Offense needs to get -- and stay -- in rhythm
The Packers' patchwork offensive line was beat like a rented mule last time around (metaphor only, animal lovers!), leading to two turnovers that led immediately to touchdowns for the Cardinals. You can't give away fourteen points to a team like this and expect to win. You can't let Aaron Rodgers get sacked eight times and expect to have a
chance
to win.
Early indicators are that LT David Bakhtiari will be able to start the game tonight, meaning all the regular starters should be on the line. How long he will be able to last...who knows? We saw last week, however, after giving up that early sack leading to a safety, that J.C. Tretter is a battler and could provide serviceable protection to Rodger's blind side if needed.
Having the full line ready to go should also help the run game. When the Packers run at least 25 or more times a game, they have a great shot at winning. LG Josh Sitton is even more insistent: run it at least 30 to 35 times during the game, he says. It opens up the passing game. Although, to be fair, some say it's the other way around with the Packers: if the passing game is fast and furious it can open up the running game. Well, however they do it, the Packers will need both the running and passing attacks to be in championship form tonight. Anything less and we could be looking at the end of this NFL season for the Pack.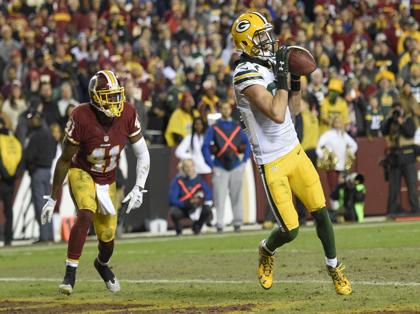 Packers WR Jared Abbrederis catches a 2-point conversion in the game vs. Washington. He'll need to come up big tonight against the Cardinals.
(Photo by Nick Wass, Associate Press)
The passing game will affected by the absence of second-year WR Davante Adams. Adams was having a good game against Washington until he sustained an MCL sprain. This means WR Jared Abbrederis becomes the third wide receiver, with Jeff Janis bumping up to the fourth spot. Abbrederis has shown glimpses of greatness in the little playing time he has had. Rodgers likes him and has confidence in him, to the point of saying several weeks ago he thought Abbrederis deserved more playing time. Now he'll get it. Having all week to work on their timing together, Rodgers and Abbrederis could combine for some great plays tonight. They'll need to, perhaps out of the slot and via quick-hitting slant routes. If Janis can run disciplined routes downfield to stretch the defense that would be a bonus, as well. But Abbrederis might wind up being an unsung hero tonight, as this
article
suggests.
The Prediction
The Packers come into this game as 7-point underdogs. If someone watched the first game between these two teams they might question why it's not larger than that. And, certainly, listening to and reading many of the predictions for this game you get the clear sense that most aren't giving the Packers much of a chance. Does that sound similar to last week? You bet.
Now, the Cardinals have had a week off and the Packers are coming in off a short week. Advantage would seem to go to the Cardinals, especially with the home field advantage. But sometimes that week off can throw off a team's own rhythm. Been known to happen. And for a team such as the Packers that limped into the playoffs following a disappointing NFC North Championship loss at Lambeau Field to the ViQueens, getting a bit of mojo back with the win in D.C. (or Maryland or wherever Washington plays) is just what the doctor ordered. They
believe
in themselves...even when no one else does.
Call us believers. We're calling this game:
Packers 27 - Cardinals 26
.
Go Pack Go!!!