As with every other team in the NFL, when the draft is over it's still not really over. Oh sure, the draft part is with the big hoopla. But minutes after the selection of the last pick -- Mr. Irrelevant -- teams can begin signing those players who, for whatever reasons, weren't among the chosen draft elite.
For the Green Bay Packers, they have reportedly picked up the following players as undrafted free agents:
* Chase Rettig, QB, Boston College
* Justin Perillo, TE, Maine
* John Fullington, G, Washington State
* Justin McCray, G, Central Florida
* Rajion Neal, RB, Tennessee
* James Sims, RB, Kansas
* Mike Pennel, NT, Colorado State-Pueblo:
* Carlos Gray, NT, North Carolina State
* Joe Thomas, ILB, South Carolina State
* Jake Doughty, LB, Utah State
* Jayrone Elliott, OLB, Toledo
* Ryan White, CB, Auburn
* Tanner Miller, S, Iowa
* Jordan Stanton, OLB-DE, James Madison
Among these may be players invited for try outs. There may also be players not listed here who are also invited in for tryouts. This is a fun week, Packer fans. Ted Thompson provided a great draft class, and there are a few interesting players among the above list, as well, even given the long-shot nature of their current status.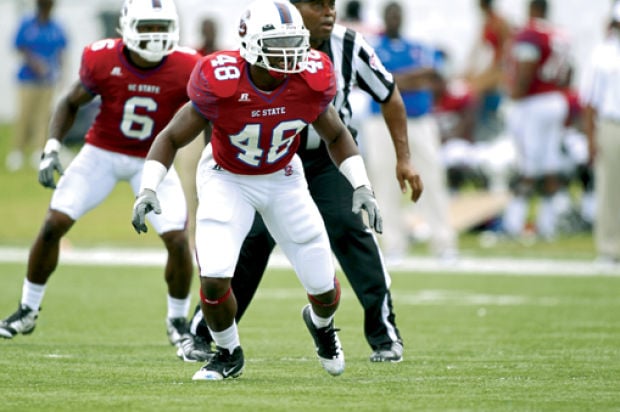 I'd keep my eye on
Joe Thomas
as perhaps the most likely candidate in this group to have a shot at making the final roster. The skinny on him is that he was the MEAC defensive player of the year in 2013, with 116 tackles (20 for loss) and 7½ sacks. His team, South Carolina State, was the FCS' No. 1 defense. He's a player, although perhaps a bit undersized at a little more than 6 feet tall and 227 pounds. But with the Packers' draft needs going unmet for an inside linebacker, Thomas may be a guy to keep your eye on.
Go Pack Go!!!