For the first time since Aaron Rodgers became the Green Bay Packers starting quarterback in 2008, the Pack lost two games in a row at Lambeau Field. And, as we know, Rodgers had nothing to do with either of the losses. Knocked out with a fractured collarbone on the first series of last Monday night's game against the Chicago Bears, Rodgers was on the sidelines today. In his place, veteran backup Seneca Wallace got the start. The entire week of practice was devoted to implementing an offensive scheme that would play to Wallace's strengths. Practice squad quarterback and former Wisconsin Badger, Scott Tolzien, was elevated to the backup slot.
So much for that idea.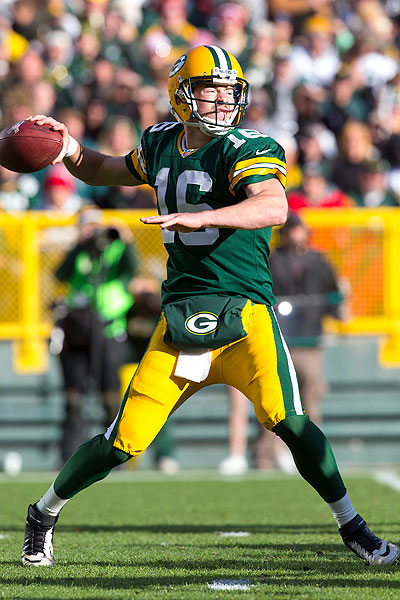 Scott Tolzien photo by Jeff Hanisch/USA TODAY Sports
For the second game in a row, the Packers starting quarterback was lost for the game. In today's game against the Eagles, Wallace was lost on a third down play -- on the first offensive series -- with a groin injury. Enter Tolzien.
To his credit, Tolzien didn't look flustered. He actually looked in good command for having little to no reps with the first unit during the week. He finished the day 24 for 39, with 280 yards passing, with one touchdown (an NFL first for both him and TE Brandon Bostick) and two interceptions, including a costly one in the endzone and another tipped. Whatever Wallace's status physically, it was announced on air after the game that Tolzien has been named the starter for next week's game against the Giants. (Let's hope he doesn't get injured during the week of practice...which the way the Packers' luck is going is a distinct possibility.) Tolzien had a good arm, some good throws, and it will be interesting to see what he can do with a week's practice with the number one unit under his belt.
What will that first-string offensive unit look like?
There is a question at this point as to what the offensive line will look like this next week. That's because the Packers' season-long injury parade kept on coming again today. Center Evan Dietrich-Smith went out with a knee injury, moving right guard T.J. Lang to center, Don Barclay from tackle to guard, with Marshall Newhouse entering then at tackle. By the end of the game, Barclay was also injured. So who knows who will be starting in front of Tolzien next weekend.
More injuries
Think the injuries to Wallace, Dietrich-Smith and Barclay was enough? Naaaaah. Toss in injuries to Nick Perry, Casey Hayward and Johnny Jolly to the mix. It just keeps coming, folks. Even LG Josh Sitton was quoted as saying that he's starting to wonder if there just isn't something in the water with all the injuries in Green Bay. As bad as 2010 was with injuries, this season might actually be worse. At least in 2010 the Packers still had their starting QB throughout the season.
Everything needed to go right; nothing did
In a game where everything had to go right for the Packers to win, nothing did. The bad omen came early, on a missed 53-yard field goal -- one of two misses on the day -- by Mason Crosby, which clanked off the right upright. Missed interceptions, a fumble recovery deep in Eagles territory that turned into zero points, not much went right on this day.
Defense fails again
For the second game in a row, the Packers defense -- after holding tight for most of the first half -- did very little to help the effort in the second half. There wasn't much of a pass rush again. The secondary left receivers wide open. It was uninspired. And for yet another game, the defense didn't really generate any turnovers of significance. Yes, there was that late fumble recovery on a sack of QB Nick Foles, in the Eagles red zone, but the offense was unable to turn that into points.
Where do we go from here, Packers fans? One could say that if you are a person of faith go to church, synagogue, temple, mosque, whatever. It seems as if Divine intervention is needed at this point, or at least until Aaron Rodgers returns.
Other than that...grab the dramamine because it looks as if it's going to be a bumpy ride for at least several weeks if not the remainder of the season.